VANCOUVER, BC, CANADA – (March 18, 2021) – VoltSafe Inc. is gaining marketing momentum, partnering with the forward-thinking and award-winning brand agency,  Here Be Monsters. Headquartered in Vancouver, BC,  Here Be Monsters was founded in 2017 by the creative genius of  Chris Raedcher,  Matt Bielby and  Tony Hird. Collectively, Raedcher,  Bielby and  Hird have garnered international attention with multiple awards for projects within their respective portfolios of work. They bring over 60 years of combined experience to the table across multiple industries, in every medium and market and now, a strategic partner of  VoltSafe Inc.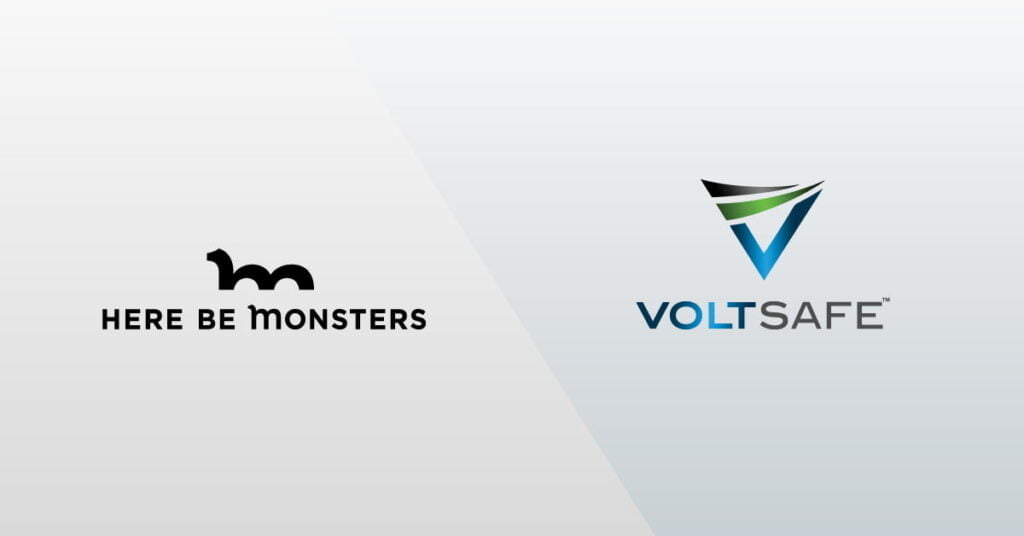 Here Be Monsters' team has worked on major national and regional brands across a wide spectrum of industries, including blue chip companies such as: TELUS, Volkswagen, BC Hydro, lululemon, Bell, Nintendo, A&W, BC Ferries, BCAA, Make-A-Wish Foundation and many more.
With the recent growth of the VoltSafe marketing team, adding Rich Koh as Director, Creative & Brand and Terri Breker as CMO, the company is actively demonstrating a commitment to increasing brand awareness with an end goal of awareness and adoption throughout global markets.
Here Be Monsters' work takes a unique and creative approach and they are motivated to help lift the VoltSafe brand to the global stage.  Here Be Monsters and VoltSafe have their vision set on creating flexible go-to-market strategies for partners and consumers.
Chris Raedcher, Client Services Director and Partner, commented on behalf of Here Be Monsters,  "Our team is thrilled to be partnering with VoltSafe. After learning about the technology and seeing the long-term impact this innovation will have globally, we jumped at the chance to connect with their team. We want to help bring the VoltSafe story to a global market in a memorable way. We can't wait to dig into this project."
VoltSafe CMO,  Terri Breker, stated,  "Having worked with Here Be Monsters in the past, I am confident they will help VoltSafe bring its brand spirit, innovative story and vision to life. We are excited beyond measure to be partnering with the talented Here Be Monsters team as we look to shine a global spotlight on our brand's future."
About Here Be Monsters
Here Be Monsters is an independent agency based in Vancouver, BC. The name comes from 16th-century maps where unexplored places of the world were marked with Here Be Monsters along with a sea dragon. Today, Here Be Monsters believes good brands know where they're going, but great brands know that there's always more to explore. They have worked with groups such as: lululemon, BC Lions, Vancouver Aquarium, Destination BC, SnapQuote, Denny's Restaurants, Happy Planet, BC Used Oil, Peregrine Supply Co., Noodlebox, Wesgroup Properties and Make-A-Wish Foundation.