VoltSafe Blog Team – July 7, 2022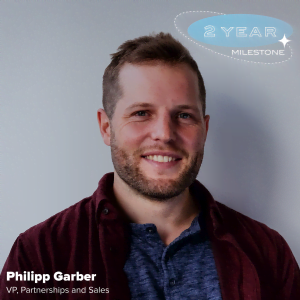 Philipp Garber, VP of Partnerships & Sales at VoltSafe, is a self-admitted treehugger and former wildfire firefighter with a business degree. When he is not hiking, he's skiing, and when he is not biking, he's paddling. Always on the move or working towards earning certification in an expertise… like rope-tying. Yes, he sounds like a contestant on the very popular TV show 'Survivor' and he'd probably be the last person standing if he were. As busy as he is, Phil is always eager to put time aside to  share his passion about the patented technology of VoltSafe and how it is going to change the way we access electricity safely. We asked VoltSafe's "tip of the spear" to share some of the highlights of his two-year journey with the company so far.

Q: Tell us about how you discovered VoltSafe, and what got you so excited about the tech that you wanted to work here?
PG: VoltSafe had a booth at a sustainability conference in Vancouver, Globe 2020. As a treehugger with a business degree and a habit to nerd out on obscure topics like energy innovation (just ask my partner!), I immediately recognized the environmental potential in VoltSafe technology. 
At scale, our tech can be an absolute game-changer for energy management and grid-wide demand-side management. In other words, our tech can reduce the need for new power plants by predicting or shaving off demand peaks. For instance, folks come home from work in the evening, plug in their EVs, crank up the AC or heat, start cooking, open the fridges and freezers, turn on the laundry or dishwasher, … this quickly drives demand to peak levels. Well, what if you, the homeowner or tenant, could get paid by the utility not to use electricity to charge your EV or run your freezer between 4 and 8 pm, but let them remotely turn them on after the peak demand subsides? You'd save the utility money (peak-demand capacity is expensive and only needed for short periods) and reduce the need for GHG-emitting, gas-fired power plants to step in during those peak demand periods. 
Making money AND saving the environment – that's why I joined VoltSafe! Oh, and the people of VoltSafe are pretty cool, too. 🙂

Q: Can you share with us what skills you possess that have most served you well in your role?
PG: Geez… I'd like to think that my passion is my biggest asset. It allows me to dive into a new industry quite quickly and understand the pain points in that space. If we can truly address a problem, we'll go to trade shows or call businesses that we believe have these problems. Being tenacious, yet kind, curious, and personable are certainly traits that help anywhere in life, especially in a sales and partnerships role. Humility, work ethic, and resilience brought over from my previous job as a wildfire fighter are likely other traits that have served me well. 
Building a hardware startup and bringing a product to market during COVID is not for the faint of heart… Those are traits and skills we see across the board at VoltSafe and are often the determinant whether or not someone will succeed in the startup world.

Q: You work closely with engineering, operations, finance and the marketing team. How has this helped you in your role?
PG: In a sense, my role is to be the tip of the spear – which is thrilling! As customer-facing professionals, we need to know what our tech is able to do (engineers love salespeople that overpromise) and when we can deliver product by. It's equally critical that we relay our insights, so our engineers know what to build, marketing knows who to target, ops knows how many trucking companies to hound, and finance/leadership knows which sectors to prioritize. We're a small team with limited resources, so it's critical that we get it right pretty quickly. We don't have the luxury of a large corporation or a Silicon Valley-funded software company to go down the wrong path for years.

Q: You've helped onboard over 400 retailers for VoltSafe products. Why are retailers so excited about carrying VoltSafe on their shelves?
PG: What's more exciting than plugs?! Ok.. maybe skiing, food, family, and a few other things.
But in the hardware and automotive retail world? New products have been limited to a few categories, so retailers are always looking for the next cool new thing that their competitors don't have yet. What's more, many of our retail partners can relate to how our products improve life. They've experienced the pain points themselves, they have relatives who live with disabilities, they like to save money + energy (who doesn't?). So we've been blessed by some eager retail partners.

Q: What are potential partners saying about VoltSafe technology that gets them most excited?
PG: This really varies. Most prospects think this is super cool, but it takes more than that to do business. Some sectors have pain points around electrical safety (marine, oil & gas), others are tired of ripped cables (aviation, construction). First responders and military need a quick-release cord to improve response time, autonomous vehicle manufacturers want an autonomous charger. And some just want the latest and greatest.

Q: How do you identify a good licensing or commercial partnership opportunity for VoltSafe?
PG: First, we assess the market, then potential partners. 
For the market, we ask questions like: How big is the pain point? How common is it? How many fires, injuries, deaths can we prevent? How big is the insurance claim or the loss of efficiency that we could have saved? For instance, if an aircraft is damaged and out of commission for a day due to a power cable (this happens!), the loss adds up very quickly. 
On the business side, it always ends up coming down to the people involved. If we enter a licensing agreement, we're pretty much getting married to another business, so we better know that they are good, trustworthy people.

Q: How has VoltSafe evolved since you first started working here?
PG: We've almost tripled in size. We've moved into a real office. Our product is being used by consumers and professionals every day. We go to tradeshows and (some) people know who we are. We even have plants in the office, which makes us a real business, right?!
At the same time, our DNA still runs strong. We're as tenacious and gritty as ever – if not more -, speak as many languages than we have staff, friendships run deep, we celebrate milestones, don't take ourselves too seriously, and stay in touch with alumni that are elevating their skills elsewhere.

Q: A particular area of focus for VoltSafe right now is Voltsafe Marine. What has been your experience when presenting it to boat manufacturers, marina operators and boat owners?
PG: Where has this been my whole life?! Where can I buy this??? 
Ask any boater about their yellow shore power plugs and they'll get fired up. They corrode, melt, even start boat fires. They're a pain to connect and if you drop them in the water, you need to buy a new one. In freshwater, they cause electric shocks and about a dozen drownings a year. 
The pain point is clear, expensive, and felt by everyone, so our reception has been beyond warm. I can't wait to bring this product to market!! Not just in the boating space, but also for commercial and naval vessels.

Q: You have a special bond with the four-legged Barketing Intern, Derby Breker. Why is it important to stop by for cuddles during the day?
Derby makes everyone smile. You can only stare at a screen for so many hours before your brain melts. Stopping by to say hi to Derby for a few minutes is sometimes all you need to recharge. She also melts my heart, so how can you not?

Q: In addition to giving cuddles to cute pups, what do you most love to do in your spare time?
PG: Vancouver has a tonne to offer. Paddling, hiking, camping, biking, skiing, all kinds of adventures with friends! Last summer, my partner Ivana and I did a 9-day hike in Jasper, which was spectacular. We like to disappear off the grid, so our CFO Scott keeps asking whether we have bear insurance…

Q: What do you love most about working for VoltSafe?
PG: We dig deep for one another and step up when called upon. Be it staying late as a team to ensure product gets shipped out on time, or fundraising for our colleague in Ukraine. This feeling is rare in business. 

There you have it – groundbreaking technology, exciting partnerships and doggy cuddles are all part of daily life at VoltSafe and our VP of Partnerships & Sales is a valuable part of the development and future of the company.  If you would like to learn more about VoltSafe and are interested in learning more about a possible licensing or retail partnership, or becoming a part of the VoltSafe spear, email sales@voltsafe.com or visit voltsafe.com.