VoltSafe Blog Team – July 14, 2022
Sanad Aridah, CTO (Chief Technical Officer) at VoltSafe is more comfortable with the title, "The Circuit Whisperer". The name came about because he was found talking to his circuits when he is trying to solve a problem and feels that the solution tends to present itself late at night when the circuits "talk back" to him.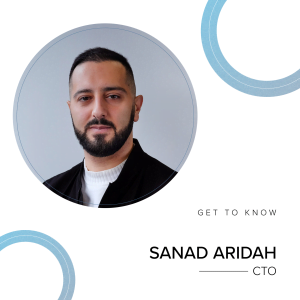 It's rare that you come across someone who is so deeply connected to their work and is determined to find solutions that go beyond expectation. It's something that he shares with American physicist Richard Feynman, who is both an inspiration and someone that he would love to engage in a debate on topics ranging from physics to politics. Sanad had a knack for taking things apart and repairing them from a young age and his family dubbed him "Mr. Fix It" around the house. His ability to find unorthodox methods to recreate something bolder and better began at a young age. At age 12, his visiting grandmother bought him a standard toy building set similar to Lego. Sanad discovered that building the standard vehicle design from a set of instructions was too boring. So, he built a dinosaur out of the pieces instead and added a motor so it would have moving parts. His parents realized a career in engineering was in his future.
This drive to create something that exceeds expectation and provides tangible solutions is behind Sanad's vision to develop technology and products at VoltSafe that go beyond the standard cleantech technology in existence. Sanad sees the term cleantech as a buzzword that is thrown around and that most cleantech products and technology out there aren't really clean. They are still a burden on energy grids, which require the need for more power plants to be constructed to power it. "VoltSafe's technology is cleantech in its purest sense," according to Sanad. This excites him most about working for the company. VoltSafe's proprietary technology will allow customers to reduce their energy consumption with little effort on their part and reduce their demand for more supply.
How is this possible? Let's take VoltSafe's home application as an example. Unlike other smart home products, the technology will identify each product's usage individually, such as the energy usage of your toaster oven or your fridge or dryer. Sanad explains that, "The same way that your phone can tell you which apps are using the most battery power, VoltSafe's technology will tell you which appliance is using the most power." The technology will also detect "vampire power" at the outlet level. For those not familiar with the term, if you've ever disconnected the power cable from your phone and left it plugged into your outlet, you're still draining power, thus the term "vampire power".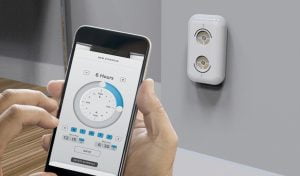 VoltSafe's patented technology will benefit both the customer and utility companies by managing the customer's power usage at the outlet level, therefore, decreasing their dependence on the grid and reducing the need to build more power plants. This will allow utility companies to pass the money saved on building facilities on to the customer as discounts or credits that they can apply to their bill or even to other household members' bills if they are on the same power grid.

So how does Sanad see VoltSafe overcoming adoption hurdles for their technology and products? Sanad poses a two-phase approach to getting the technology into homes and businesses. One will be with new builds and renovations. The second is an incredibly simple retrofit option, a thin outlet sleeve that will turn a traditional electrical outlet into a magnetic one and a 90 degree adaptor sleeve that will fit over your existing pronged plug. This design creates a firm and safe magnetic connection while reducing tripping hazards at the same time.
A firm connection has also proved valuable to boat owners and marinas. A strong connection has always been an issue for boat owners and VoltSafe's technology solves that problem. Another enormous concern for boat owners and marinas is the corrosion of shore power plugs. Corrosion has also been the common cause of boat and marina fires. It occurs more often than we think. Sanad explains how VoltSafe Marine is essentially "corrosion proof". He put his research on graphene applications while at UBC to good use to come up with a solution on how to prevent corrosion of the magnetic metal contacts on the VoltSafe Marine connector. He also points to how the design of the connector prevents corrosion from building up and being hidden. As he sees it, an investment in a VoltSafe Marine connector is like getting an insurance policy on your vessel. Along with safety, energy usage also comes into play with the electrification of boats becoming increasingly popular. The accompanying mobile application will help boat owners reduce their power consumption.
Sanad is fully aware of how the demand for electricity will supersede the supply and building the required infrastructure to meet the demand will be slow. So unless the customer manages their household or business demand for electricity, utility companies will require more land to build more plants to produce power. The negative perception of nuclear power disappoints Sanad, as he feels that with today's technology, we can generate nuclear power safely with a more minimal impact on people and land. So without a clean source of energy to turn to eventually, whether it be nuclear fission or fusion, utility companies will turn to coal-fired plants. Therefore, Sanad believes the focus of cleantech should be on power management as an immediate solution to reversing climate change.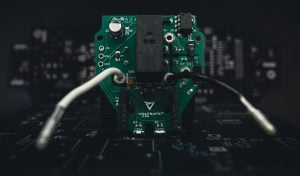 You're probably wondering how VoltSafe ended up with such a visionary as part of their executive team. Sanad was cleaning up some emails for an engineering student society at UBC and spotted an email from VoltSafe co-founder Arash Janfada, which piqued his interest. They met up for coffee and Arash showed the prototype for Voltsafe Winter by plugging it into a lamp. He disconnected the active and passive side and touched the surface of the contacts without electrocuting himself. A lightbulb went off for Sanad, and he knew he had to be part of working on the project. Fast-forward to today, where Sanad's vision has helped put VoltSafe Winter on retail shelves, signed several major partnership deals and filed numerous patents around the world.
After achieving all this, what piece of wisdom would he like to impart on up-and-coming engineers? "Find a mentor that you want to work for, and the rest will come. Meaningful work isn't about your salary or impressing others, it's about expressing your values," he advises.
If you are an engineer looking to work for an amazing visionary like Sanad, or would like to learn more about VoltSafe tech, check out our website. If you would like to invest in VoltSafe's groundbreaking technology, email invest@voltsafe.com or invest now via Frontfundr until July 29, 2022.