VoltSafe Officially Earns a Spot on the "Ready to Rocket" List of Companies with High Growth Potential
Vancouver, Canada – April 14th, 2020 – VoltSafe Inc. is excited to announce it has been named one of Rocket Builders top technology companies, selected to the "Ready to Rocket" list which highlights British Columbia technology companies with the highest growth potential. Rocket Builders today released its eighteenth annual "Ready to Rocket" lists. These lists profile companies that are best positioned to capitalize on the technology sector trends that will lead them to faster growth than their peers. Rocket Builders also released results from its 2019 lists, with strong revenue growth across all sectors. As is typical with this list, companies profiled tend to attract investment, partnerships and even get acquired.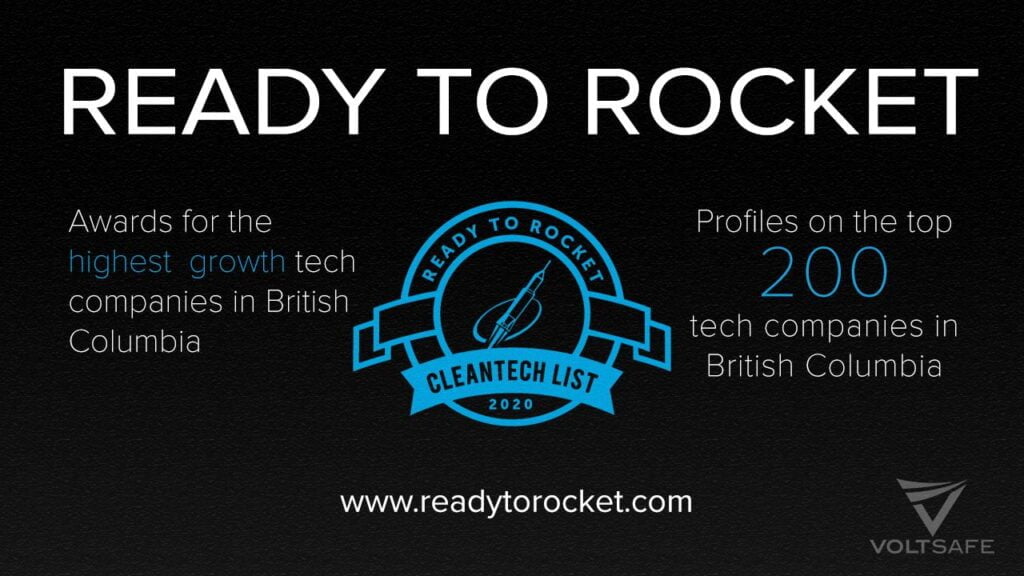 The annual 2020 "Ready to Rocket" lists provide accurate predictions of private companies that will likely experience significant growth, venture capital investment or acquisition by a major player in the coming year. This year the lists feature companies across 5 different technology sectors:
Information and Communications Technology
Cleantech
Life Science
Digital Health
Agri-Food
The "Ready to Rocket" lists are the only predictive lists of its kind in North America, requiring many months of sector and company analysis.
According to Dave Thomas, Senior Partner at Rocket Builders, "The Cleantech sector in B.C. continues to see growth. It is an exciting time in cleantech as renewable energy is reaching an economic tilting point and investors are keen on large investments in post-demonstration technologies that are ready to scale."
For further information on VoltSafe Inc., please contact Scott Carlson, CFO at (604) 862-1744 or scott@voltsafe.com
About the Rocket Recognition Program
"Ready to Rocket" list profiles information technology companies with the greatest potential for revenue growth in the coming year. The "Emerging Rockets" list profiles technology companies from multiple technology sectors with great potential for investment and market breakthroughs in the coming year. Both lists are predictive of future success making them unique in approach and unique in value for our business audience.