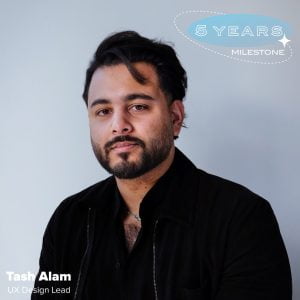 VoltSafe Blog Team – June 5, 2022
Tashfiq Alam stumbled into his role as the UX design lead at VoltSafe the same way that most UX designers do. Since UX design is a relatively new field, working in a start-up environment meant he moved from designing circuitry to assisting with the marketing and business development, which eventually led to his current role.
Picture this: it's April 2017. Tash  has just graduated from the Electrical and Computer Engineering program at UBC. He spends his days tutoring kids on robotics and coding. His friend from university, and now CTO at VoltSafe Sanad Aridah, approaches him with an opportunity to help design the world's first AC high voltage magnetic plug. Bringing Tash onto a project like this made sense because his final year project for the engineering program was working on an IoT smart switch. Sanad brings Tash to VoltSafe's first office in Gastown. He introduces him to the rest of the staff, which ‌at the time were VoltSafe founders and friends Trevor Burgess and Arash Janfada. 
The team reveals they need help with the creation of a prototype for a high voltage magnetic connector. They plan to present it on an episode of the hit TV show Dragon's Den. Tash immediately jumps on board and gets to work. He pulls a string of all-nighters with the rest of the team to build what will become the new standard for connecting to electricity. I know this sounds like a pitch for the latest tech centered TV sitcom on your favourite streaming platform. More on the behind- the scenes-moments leading up to that successful appearance in Dragon's Den later. First, here is why having Tash on board was crucial.
There's no denying that he knows what he's doing when working with circuitry, but Tash never felt that working with cold copper traces was his true calling. 
He had dabbled in artistic pursuits, designing album cover art and directing music videos for international artists. Even though he was expressing himself artistically, it did not satisfy him. At VoltSafe, Tash found himself in an environment that gave him the freedom to combine his artistic passion with his technical problem-solving skills. He worked on graphic design, content creation, and business development. With CEO Trevor Burgess, he created the first pitch deck to be presented to investors. It was his introduction to creating user centric graphics, meaning his graphics and contents needed to deliver a message to a particular user (an investor). Prior to this, Tash's concept of design was creating posters based on his artistic expression. With UX design, he could use his artistic skills to design with a purpose. It was at this moment that he understood that the role of a UX/ UI designer is essentially "solving problems through design". 
Many artists will tell you that their most valuable trait is their ability to empathize with their viewer or subject. Companies are now using an empathetic approach to resolving customer issues. So Tash considers his empathetic approach to problem solving as his greatest strength and contribution to his role as a UX design lead at VoltSafe. He can see things from the user's perspective and really understand their pain points. 
User feedback assists him with daily decision making in improving the product and adoption rates. For Tash, increasing the adoption rate of the app is important. VoltSafe's technology makes their products extraordinary, but the apps that unlock the true potential of that technology.
You could say the user experience is something that is always on his mind, right down to the way he makes a sandwich for himself. He shares how important it is to layer the lettuce between the slices of tomato and bread. This way, the lettuce absorbs the juice of the tomato, preventing the bread from getting soggy. The care and thought put into something as basic as a sandwich carries over to his work on VoltSafe's apps. 
Even with problem solving constantly on his mind, Tash has enjoyed the humorous moments at work. Every day seems like an episode of Silicon Valley. There are a lot of "bell ringer" days and those that leave you scratching your head. It comes with the tech start up territory where everything is new and discoveries made through trial and error. 
Tash's favourite moment at VoltSafe is what he considers "Season 1". Going back to the days when they were working on the prototype for Dragon's Den. The day before his appearance on national TV, Trevor walked in with a bruised eye, caused by his daughter head-butting him in the face (I see an MMA champion title in her future). The eye changed colour over the course of the day from purple to green and everything in between. Sometime during the day, Trevor stuck his hand in a bowl to pick up a prototype and cut his hand on an x-acto knife instead. Tash himself  came close to severing his fingers between attracting magnets. 
The moment they finally connected that prototype to a lamp and watched the bulb turn on, they realized they were on the verge of an electrical revolution. Off to Toronto they went to present the technology that will change the way we all connect to electricity. 
That excitement and enthusiasm are still present every day. He is looking forward to seeing the UX/ UI department grow. His advice for those looking to venture into the exciting and competitive world of UX design is to understand the difference between art and design. Most artists are drawn to the world of design and are looking for an artistic outlet. Art as beautiful as it is should not overshadow the importance of what design actually is: problem solving. Place the user's needs first and back up your design decisions with research. Don't be afraid to take risks with your designs and ‌validate your ideas with real world testing. By taking this approach, Tash found his purpose as a designer. This month, Tash celebrated his fifth anniversary with VoltSafe – time sure flies when you're having fun.
If you would like to join our team or get cast in "Season 5" of The VoltSafe Office, check out our careers page.