VoltSafe Blog Team – August 5, 2022
When Mechanical Engineering Co-Op, Thomas Bichel, completed high school, he was trying to decide whether to pursue further studies in music or engineering. He had always been interested in math and science and had an inside look into the world of engineering through his brother's chosen career path. He loved building things and seeing designs brought to life since childhood. So, during his first year at UBC, he joined the UBC Rocket Design Team. They were working towards a design that would enter a competition in New Mexico. He had worked on carbon fibreglass infusions and the hands-on experience building the shell of the rocket for the competition brought such satisfaction that it kicked off his dream of becoming an engineer.
It wasn't long before he came upon the posting for a co-op program at VoltSafe. He found the posting both intriguing and different from other co-op opportunities, in that he would get the chance to be put in charge of his own project from start to finish. That was exactly what he was looking for.
The project that Thomas was challenged with was to build a machine that would not only last long, but do so while running constantly and consistently. He also had to stay on budget, knowing that it would eventually break. Why was this a challenge? Well, based on his experience and studies at UBC, Thomas was aware that the things that you build won't last forever. The challenge didn't deter him because of the excitement he had for the potential applications for robotics and quick swap connectors with VoltSafe's tech.
Enter the Endutrotron. If you don't follow us on social media, well, you really should. There's some really cool things on our Instagram page including a look at the Endurotron. It sounds like something out of a Stanley Kubrick film. But Thomas is happy to explain in simple terms that the Endurotron is a machine that essentially plugs in plugs. While it sounds simple, the purpose of the Endurotron itself, isn't.
While designing the machine, Thomas had to think about different ways to connect a plug and pry it apart. He used VoltSafe's first product to market, VoltSafe Winter, an Engine Block Heater Extension Cord, to test the machine. Prying the plug apart is challenging. Magnets have a short range of attraction, so when you try to pry it apart after a certain range, it will jerk outwards. So he focused on building the Endurotron as a machine that can twist and pull and test wear on products. It also needed to be modular and easy to edit and change in the future. In the end, Thomas built a machine that can work with vertical and twisting motions and would be mobile so you could move it wherever you need. It also can run on different applications as well.
Like the Endurotron, Thomas' day isn't stagnant, filled with an endless stream of nuts and bolts. Lunch time conversations inject a different kind of fun into his daily routine. He loves how normal the topics are at the beginning of the lunch hour, then quickly develop into different topics that turn his colleagues into the best stand-up comics outside of a Netflix special.
Thomas' experience at VoltSafe also gave him the opportunity to work with a larger budget. Not exactly a Netflix production-sized large budget, but a larger budget than what he was used to. What that offered him was the opportunity to practice the skills he learned in the engineering program at UBC to create something the way it needs to be. He also learned from the issues that would arise during his work on the Endurotron.
Thomas has really enjoyed his experience here at VoltSafe and his advice to others seeking a co-op experience is to "pursue a company that is interesting to you and find out where you see yourself within the company. Find out what you want to do and what you want to learn. Have a conversation with your employer about what you want to do with the company."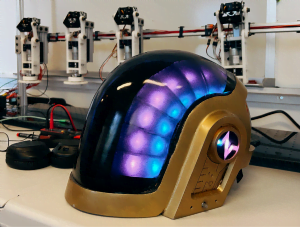 So what about Thomas' musical aspirations? Well, he hasn't abandoned them. In fact, he brought in his build of Daft Punk member Guy Manuel's helmet, with the in ear speaker and working LEDs displaying the volume levels, to do a little show-and-tell during this blog interview. His future personal projects include building an analog guitar pedal and a frequency analyzer which inputs sounds and outputs frequency levels using ping-pong balls to provide the visual of the frequency levels.
We will be sad to see Thomas' time in the co-op program come to an end, but we are sure that he is destined for big things.
If you would like to be a part of the coop program and fancy yourself the next Alan Turing or Q, visit our website to check out the career opportunities with our inventive cleantech startup.