Terri Breker loooves hockey. In fact, VoltSafe's Chief Marketing Officer's leadership style is similar to that of a hockey team captain. Ready to support and guide her team, Terri prefers to deflect the impact her leadership has on the company's brand and communications in favour of elevating the company and her colleagues. Her 23 years of marketing experience and passion for her role and the company, has made her one of VoltSafe's MVPs. But marketing was not her initial career pursuit.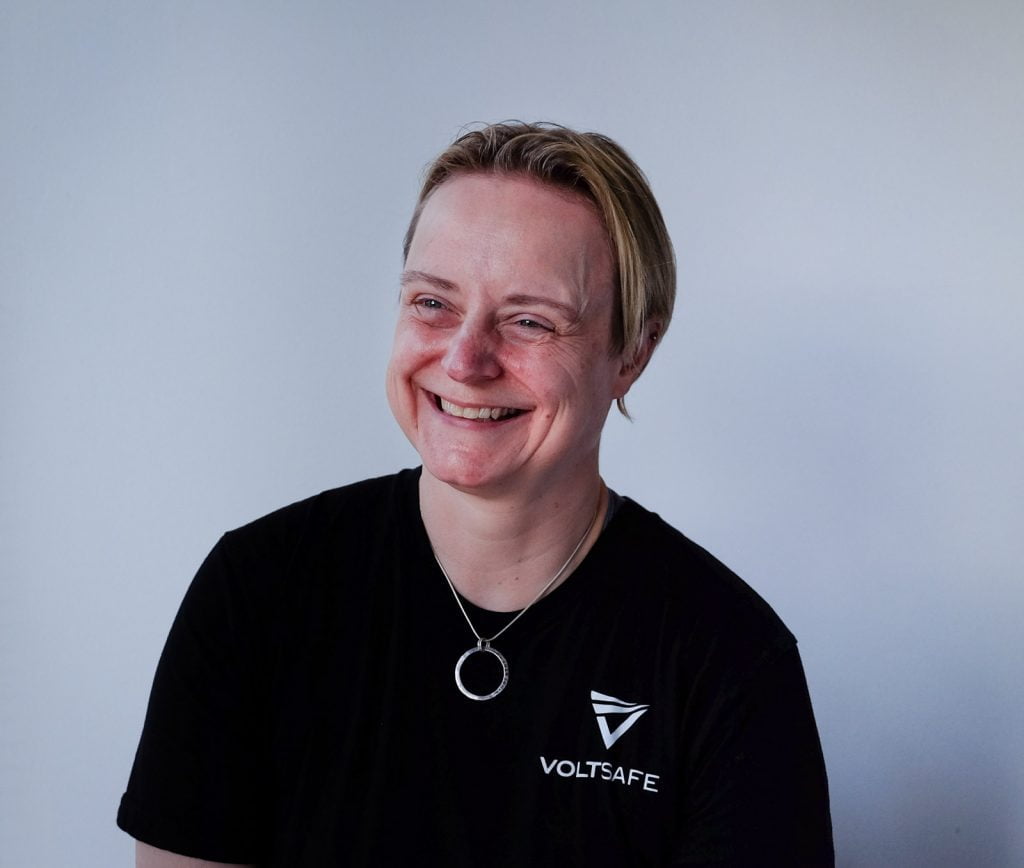 In fact, as she was approaching graduation from high-school, Terri faced the same dilemma as most students. She wasn't sure what she wanted to do after graduation. She considered following in her father's footsteps and joining the RCMP. After much thought, she realized she didn't want to risk being moved outside of beautiful BC. So, she enrolled at SFU to pursue a Bachelor's of Arts degree with a major in either Criminology or Philosophy instead. Once immersed in the program, she still couldn't decide which program she wanted to pursue. After weighing the pros and cons of the potential jobs available in those fields, she realized that her passion was actually in athletics. Specifically, playing ice hockey as a goaltender. 
Her love of hockey started as a young kid after Santa granted her wish for a street hockey net. She took her net out on the cul-de-sac and jumped in as goalie during street hockey games with friends. She developed an obsession with goaltenders, and would fixate on their playing style and equipment. She even loved doing pencil drawings of her favourite goalies in her spare time. 
She started playing for a women's team in 1993, starting at A, progressing to AAA, then on to leagues at Canlan Ice Sports. She now loves playing more for the social aspects than the competition. She even put her hockey skills to use in an effort to help a friend raise awareness for Cystic Fibrosis. In 2011, Terri's friend Val Kelly wanted to honour a friend's wish to raise funds for research to find a cure for Cystic Fibrosis. Val envisioned a record breaking game, The Longest Hockey Game for Cystic Fibrosis. Val invited Terri to join a committee to help organize the event. 40 women committed to play one game which lasted just over 10 consecutive days (242 hours and '65' minutes), unofficially broke a Guinness World Record and raised over $170k for CF in BC. Terri herself was on the ice for approximately 12 hours a day every day with little to no sleep and the extreme physical exhaustion took its toll. But Terri recalls that it was worth every second and one of her fondest memories. There's a documentary on the game called 'Lace Bite'. 
Terri may not have made her way to the Olympics, but she's stopped pucks shot off the stick of Hayley Wickenheiser at a camp where Hayley was an instructor. She received instruction from Vladislav Tretiak, Proformance Goaltending Schools and the Female Hockey Academy of Excellence. She also practiced for a few years with a goalie coach who was an assistant with the AA Phantoms team. Terri has Al Poirier to thank for making her a better goalie by passing on his skills and teaching her both mental and physical toughness in net. 
So when it came to deciding on her post secondary path and the opportunity arose to either join a women's hockey program at the Calgary Oval or switch over to BCIT's Marketing & Communications program (which only accepted a limited number of students each year), she decided on the academic route and enrolled in the Marketing & Communications program at BCIT and continued to play hockey solely as a hobby.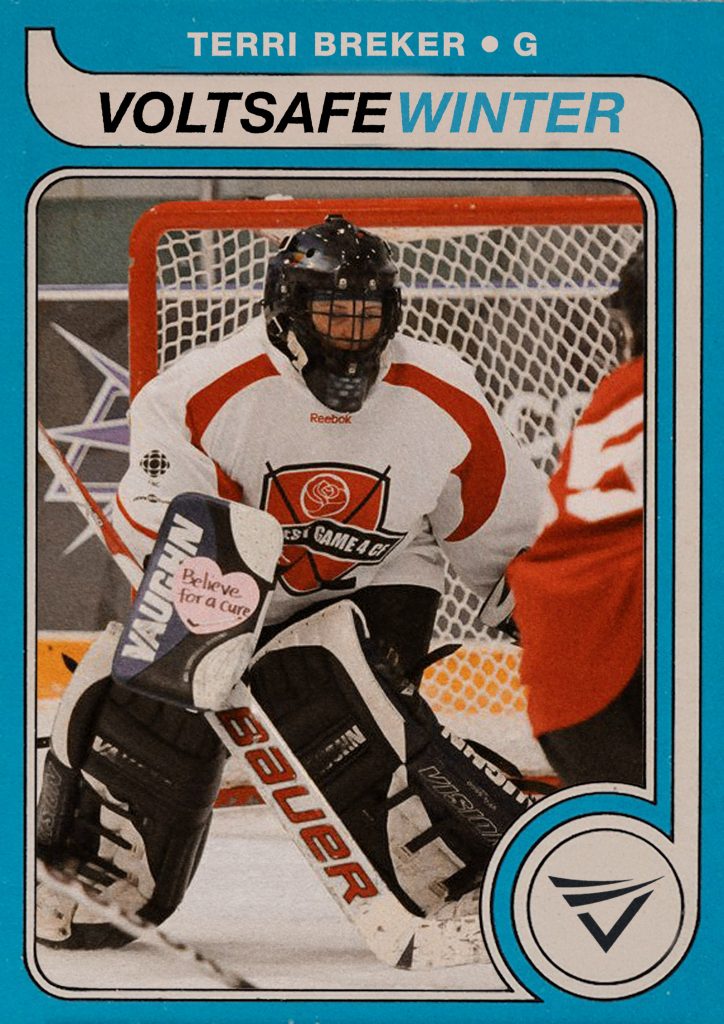 As the intense two-year marketing program drew to a conclusion, students were presented with the opportunity to complete a multiple-week internship within a marketing department from a list of participating companies. Terri submitted her applications and soon after, the MarComm Program Head confirmed a placement at one of Terri's top choices. Terri was heading to the BC Lions Football Club. This placement was the perfect marriage of her passion for sports and her newfound love of marketing and communications. The internship quickly turned into a full-time job that spanned 10 years with the BC Lions. That decade with the Lions formed incredible memories, experiences and friends for life. It would also become the foundation of her marketing career. 
The time came to move on to other opportunities, so Terri moved on to the Abbotsford Heat Hockey Club of the American Hockey League, followed by Best Buy Canada's HQ.
Terri returned to the BC Lions Football Club in 2016 where an instant friendship with the team's Manager of Digital Platforms and Social Media, Alex Ruiz would not only lead to them becoming bff's but also end up leading Terri right to the doorstep of VoltSafe Inc. Alex's husband is VoltSafe's CEO, Trevor Burgess. During a visit to their home, Trevor shared the progress and path that VoltSafe was on and Alex shared the link to Trevor's appearance on Dragons' Den back in 2018. How VoltSafe's patented technology would solve economic, social and environmental problems all at once and the impact that VoltSafe would have on multiple industries in many sectors immediately impressed her. In fact, she was witness to how VoltSafe's technology was already being sought as a solution for various industries and was excited to know that it's only destined for even greater success. So when invited to join VoltSafe's Advisory Board in late 2020, she jumped at the chance. In February of the following year, a full-time position for a Chief Marketing Officer became available and Terri immediately threw her hat into the ring as an applicant. She not only loves the company and its mission, but of her colleagues, she will be the first to proclaim, "I love this crew."
Joining an inventive startup meant Terri could help build a brand from the ground up without the roadblocks that usually exist with a longstanding corporate brand. As Terri puts it, "This allows for tremendous flexibility to be creative and 'go with the flow." But Terri notes, "Without a solid foundation of brand guidelines and standards, a company can lack consistency which is detrimental in the long run, so we're working hard to develop that personality now and convey it throughout all our channels for the different verticals." She knows that building VoltSafe's brand will be a long process that could evolve WHILE it is being developed, as the company's different verticals are continuing to take shape.
Terri believes that building and marketing a brand for a tech company versus a sports team or a retail giant isn't that much different as long as you stick to the fundamentals of marketing and communications. The major differences lie in the resources (people, tools or equipment at hand, and budgets) that are available. In her view, the job of the marketing department, regardless of the industry, is to elevate a brand's profile and place the right focus on the key benefits and differentiators of the products and the services they provide. All this is key, while developing the right brand voice to reach the most suitable audiences with your message. At VoltSafe, the team's job is to shine a spotlight on the unique benefits of VoltSafe's patented tech across the various applications and elevate the company's brand awareness. Terri notices the similarities between VoltSafe and working in sports that lie within the camaraderie of being part of a team. Both work environments boast a small, tightly knit group that has to wear many hats and work long hours to be successful. Terri admits she thrives in this type of work environment.
The similarities between VoltSafe and a sports environment don't end there. You may have noticed that most athletes are always looking to progress their game. After much discussion and analysis, the VoltSafe brand spirit revealed itself to be "obsessed with progress", with the brand position being that of fearless creators. So Terri spent time with brand specialists, Here be Monsters, early in her arrival at VoltSafe to develop concepts that would serve as the foundation for building the brand. 
Terri has found that in a constantly developing field like marketing, there are now new tools that marketers can use that are more intuitive and efficient than ever. For example, when she first entered marketing, social media didn't exist. The mediums used to consume content and brands have changed along with the algorithms at a rapid pace. Tools provide the ability to segment audiences and build customer profiles for hyper-targeted campaigns, and analytics are available to help companies pivot and maximize their return on ad spend. Terri's advice for those looking to lead their own marketing team is, always be willing to try new things, learn constantly, listen to people who have been in the industry for a long time and build and foster great relationships in any workplace because you never know who you will work with again in the future. She also encourages leaders and teams to, "Be competitive but also work as a team and show enthusiasm when your colleagues achieve a milestone, win an award or exceed a target. Read blogs, follow your favourite brands on social media and stay up to date with trends and tactics. Look to join a team and a company that shares your philosophies and approach and work for a brand you can feel good about. You need to be passionate about that brand if you want the authenticity of your work to really shine through. Your work will probably be in the public domain, so you have a thick skin. Be willing and open to accepting all forms of criticism and don't take it personally. Use it to make yourself a better writer, advertiser, content producer, designer – whatever the case may be. As your career path develops and if you get to build a team of staff around you, choose people you trust, have great attitudes and who will learn and support each other, all while able to accept constructive feedback. Hire and work with people with unique skills that complement one another. Don't be afraid to hire people who may know MORE than you – the young students coming out of programs today are highly skilled in multiple facets. It's incredible and exciting to see and is resulting in incredible ads and content. Most of all, have fun and keep an open mind."
For this CMO with the heart of an athlete, fun times at VoltSafe just happen to be sport or competition related. For her, the Bocce Ball tournaments, bowling nights, Mario Kart tournaments and hot seat challenges are some of her favourite moments at the company. But it's not so much the competition but the opportunities for camaraderie that she cherishes the most. Terri loves that the company is dog friendly too. 
This is pretty special when you have a little yellow lab pup you want to spend as much time with. Terri's pup Derby, best known as Chief Barketing Officer at VoltSafe and will turn a year old soon! Bringing Derby home was a life-changing experience for Terri. Friends had cautioned her about how much work a puppy would be….and Terri will admit Derby did not disappoint in that regard. She has caused Terri some sleepless nights in the past, getting used to her environment and her cat-brother Rocky. But Derby has grown to be a fun-loving and super friendly pup. At the office Derby LOVES the endless attention and seeing her friend, Ola, VoltSafe's mobile developer, Mani Jaffari's gentle giant Bernese. Terri's favourite way of spending time with Derby is taking her to Derby Reach Park, in Langley (yes, Derby was named after the park). She gets to be off-leash while Terri gets some much-needed fresh air and exercise and that's a win-win for both.
Indeed, after two decades in the field, Terri's athletic mindset has served her well. She has brought what she learned on the ice from the world's leading coaches and players to VoltSafe's marketing strategy and work culture. She even uses her skills as a goalie to keep her active pup from getting into some naughtiness. If you would like to see the brand that Terri and her team are building simply visit, voltsafe.com. If you think you have what it takes to be part of the VoltSafe marketing and content team, email your resume and cover letter to careers@voltsafe.com or visit Voltsafe's careers page.