VoltSafe Blog Team – November 2, 2022

Since the VoltSafe Winter app was originally released, our App Design and UX teams have been working tirelessly on updates and enhancements to improve it. After a lot of homework, research, and numerous suggestions from real users of the product, the latest version is finally here.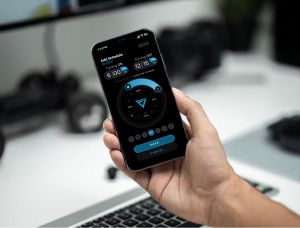 We set a goal from the beginning to create the best user-experience for the VoltSafe Winter engine block heater extension cord and its accompanying app – one that would help customers SAVE MONEY AND ENERGY, but most importantly, put the control of power management into the hands of its users.  Creating a block heater plug that was safe to use with easy connect and disconnect was just the beginning. The initial app was released, and we quickly knew we had some improvements to make when excited customers began requesting features and asking if there was more that the app could do. The features being requested required smart technology to be integrated into the plug that did not already exist on the market. The time has come, and the latest 'feature-complete' version is here, creating what is now the best timer app on the market (we think!).  And, this proprietary VoltSafe app sets the foundation of all our future VoltSafe technologies and applications moving forward.
Pretty exciting stuff!
Let's take a look at the newest features and updates (not counting those infamous bug fixes) that are now part of this revolutionary, power management app: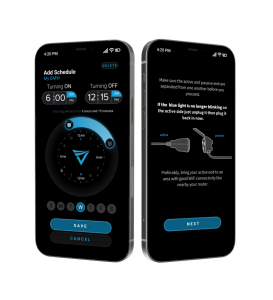 ON/OFF switch – No need to go out in the cold!  You can now turn VS Winter cord on or off from the comfort of your couch. 
WiFi connectivity to allow for recurring schedule – The biggest shift was switching it from a Bluetooth tethered device to becoming a true IOT experience. This switch allows for much more flexibility, including a weekly scheduler. This was our most requested feature, is now integrated in this version for those on a busy schedule who don't want to set a timer daily.
Ability to control multiple Winter cords with the app – A great feature for those households with multiple vehicles and VS Winter cords to manage.
Device naming logic – Now you can customize names for your Winter cord(s) making it very easy to know which vehicle you are managing.
Ability to change (edit) the schedule once set – We heard from many people on this one – plans can change once you set a schedule so this feature needed to be added, and now it is!
Ability to send invites to other users – You can share your device with friends and family. This is great for parents who want to control the plug on their children's vehicles or for those who want to assist elderly parents with scheduling their plugs remotely.
Account creation & authentication – There's no more need to onboard each time you change your phone or delete the app, it 'remembers' you.
And if you ever need any help, we put together a little video to help.  Check out our new 'tutorial video' explaining how to set up your VoltSafe Winter app and pair it to your magnetic extension cord.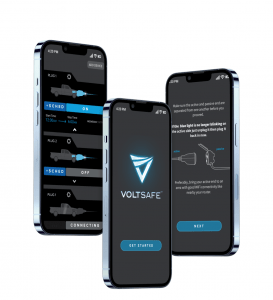 Developing an app is not for the faint of heart.  It takes countless hours, feedback and testing to continue to fix bugs, add features, and make it a seamless user experience.  We couldn't have come this far without the many users of VoltSafe Winter who are excited about the product and provided loads of feedback. Our Feature Upvote tool has been invaluable in collecting information to integrate the most useful tools. The newest app addresses all of these, making the Winter app the most 'feature-complete' it has ever been.  Here's a snapshot of some of the key concerns we heard, and addressed:
"I often use a schedule and want to turn my plug on and off. Can you add a feature that will allow me to do it on my smartphone?"
– This was our most requested feature. We added it as the key component on the device screen. It comprises 3 states: ON, OFF and UNAVAILABLE. This feature acts both as a switch and the plug's current status.
"Can you change the image in the app where it shows the blue power cord and blue engine changing only when the cord is connected to the vehicle? This way we will know if the plug is connected or laying on the ground."
– We updated the status icons to reflect every potential state: ON & connected, OFF & disconnected, UNAVAILABLE.
"I realized I can't connect to multiple plugs at the same time using bluetooth, but can you add the ability to connect to multiple plugs using the app?"
– Multiple users for a single device were accounted for when creating the device sharing function. Now, device owners can invite other users to control their plug.
"The ability to give plugs friendly names like "My Car" in the app. Currently, it is just "Plug 1" and "Plug 2". I've had to put labels on the plugs to identify them."
– This feature was added to the last step of the onboarding process. Users can also include emojis to the device name to personalize the name as much as they like. After the name has been initialized, the user can change it in the device settings.
"I notice the plug has an Espressif Wi-Fi Module. Can that be leveraged to add Wi-Fi management of the plugs?"
– One of the biggest challenges to the app was the shift from bluetooth tethered device to a true IOT experience. We integrated WiFi pairing as part of the onboarding process and we also allow the user to update their WiFi network via the device settings page.
"I don't want to set a schedule every day. I would like to set a schedule from Mon-Fri to turn on from 5am-7am every morning."
– We added a Day of the Week bubble selector. Users can now choose the days they would like the schedule to repeat. If they don't select any day or days, then the schedule remains a single instance schedule.
"I would prefer that once you set the timer, you can edit mistakes and make a change."
– Now, by clicking on a schedule it will open a scheduling screen. You can then edit and save the schedule multiple times.

Well that's a wrap for this blog outlining the incredible new features within the Winter App, but it's not a wrap on continuing to look at future improvements.  If you have a suggestion to improve the VoltSafe Winter app experience, please use our 'Feature Upvote' tool to submit it so we know we are on the right track when working on updates and enhancements. We have received lots of great ideas and suggestions to make this app more amazing than ever and we know you'll love it.  We can't wait to hear from you!

To learn more about VoltSafe Winter, check out our NEW VS WINTER website.
To download the latest version of the VoltSafe Winter app, visit the App Store or get it on Google Play.