VANCOUVER, BC, CANADA – (January 4, 2023) – VoltSafe Inc. will showcase its most advanced patented smart home connector and outlet designs at the annual Consumer Electronics Show (CES) in Las Vegas, NV, from January 5 – 8, 2023.  VoltSafe will be an exhibitor in the Venetian's "Smart Home" section (booth #52161) where the company, with partner Menlo Micro, will showcase its most advanced novel conductive connector and outlet designs to date. 
VoltSafe earned CES Innovation Awards Honoree distinctions for TWO of its patented flagship tech product solutions this year, VoltSafe Home and VoltSafe Marine. The company will reveal two additional products as well: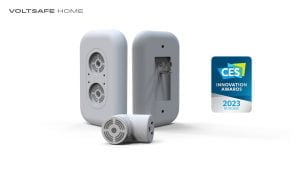 VoltSafe Home, Powered by the Ideal Switch® (by Menlo Micro) : As seen on Canada's Dragons' Den (e.g. Canada's Shark Tank). VoltSafe Home provides real-time energy-monitoring at the outlet level, coupled with 'smart plug' capabilities.
VoltSafe Marine: Scalable to suit the needs of pleasurecraft, to industrial shipping and defence sectors, VS Marine sets a new standard of safety and efficiency in shore power and EV charging.
VoltSafe Multi-Purpose Extension Cord (MP15):  This multipurpose 15A magnetic extension cord is suitable for a variety of applications, with breakaway features that improve accessibility.
VoltSafe Power Hub:  Not your typical power bar, the Power Hub features added tools normally supplied by a computer dongle, with an unprecedented level of safety.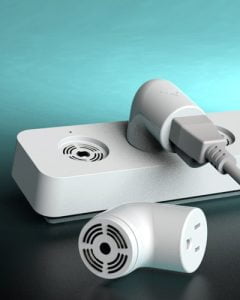 VoltSafe CEO, Trevor Burgess commented, "VoltSafe technology is the first major innovation to pronged plugs since Thomas Edison first brought electricity into our homes in 1879, and Hubbell patented pronged electrical plug-outlet design in 1905. Bringing it to life, and now being named a CES Innovation Awards Honoree for not one, but TWO, of our inventive product solutions, reinforces the key value proposition that VoltSafe's patented conductive tech will bring to the world. We're excited to be sharing these innovations on a world stage at CES this week."

LEARN MORE AT VOLTSAFE.COM/CES.

Media Inquiries regarding VoltSafe's patented tech, show information or CES Innovation Honoree Distinctions can be directed to media@voltsafe.com.  For inquiries or information regarding investing in VoltSafe Inc., please contact CFO, Scott Carlson, at invest@voltsafe.com. 
Requests for interviews or info sessions during CES can be SCHEDULED with VoltSafe HERE.