VoltSafe Blog Team – January 20, 2023
What happens in Vegas… means big things ahead for VoltSafe
We came, we saw, we conquered.  Throughout 2022, the entire VoltSafe team worked tirelessly to bring to life prototypes that serve to embody the company's vision and mission. We spent 2022 executing our strategic roadmap, which culminated in VoltSafe showcasing multiple of its high-demand product embodiments at the Consumer Technology Association's annual signature event, CES 2023 (Jan. 5-8), in Las Vegas, NV. 
The VoltSafe booth was visited by a long list of potential partners, media influencers, and investors, all of which had a similar response as we demo'd the various prototypes, explained the tech, and expounded on our vision. "Wow, I've never seen anything like this before", and "this is SO COOL!" were common phrases heard throughout the show. CES is the world's largest innovation focused, consumer electronics show in the world and it was the perfect stage for us to bring our prototypes to life for attendees across a wide range of industries around the globe. It was encouraging for the team to see industry giants seeking us out with specific product solution requests that are only possible using VoltSafe's novel conductive magnetic connector technology. Every booth visitor (even initial cynics) left the booth excited about what the future of connecting to power will look like. All this, and having been recognized with TWO CES 2023 Innovation Awards for VoltSafe Home Powered by Menlo Micro's Ideal Switch and Voltsafe Marine was just the cherry on top.  
Here's a look back at this incredible week, which marked VoltSafe's inaugural CES appearance:
Set-up Day – Wednesday Jan 4th – There's No 'i' in Team
Constructing a 20′ x 20′ booth and prototype display is not for the faint of heart and it required all hands on deck to ensure our (CES) house was in order for the show.  Our Industrial Designer, James Hathway, was the lead 'architect' of the prototype embodiments and the booth itself, while Rich Koh, Director of Creative & Brand, produced the impactful graphics and visuals to bring it to life. Our talented team on both the hardware and software fronts, led by Sanad Aridah, ensured that the brains and functionality were all in order, while Tash Alam, UX Design Lead, and his team worked tirelessly on the WiFi-enabled apps. When we say "all hands on deck", we literally mean it took everyone at VoltSafe from the crew that attended CES as the 'boots on the ground', to the team at home at VoltSafe HQ supporting with updates and information throughout the show from start to finish. VoltSafe proved first-hand there is definitely no 'i' in team. As much planning that goes into it, you can never predict some of the hiccups that happen at trade shows – with only one day to go til showtime, it was discovered the electricity drop at the venue did not match what was requested from the event supplier, impacting the entire layout of the booth. But, VoltSafe is an electrical innovator that employs a team of experts and 'tech-spert' electricians which has its benefits – the VoltSafe crew jumped into action to adjust on the fly to ensure the power that was needed to demo the prototypes at the big show was in place. By late afternoon, we were ready to share VoltSafe's patented tech with the world in anticipation of Day 1.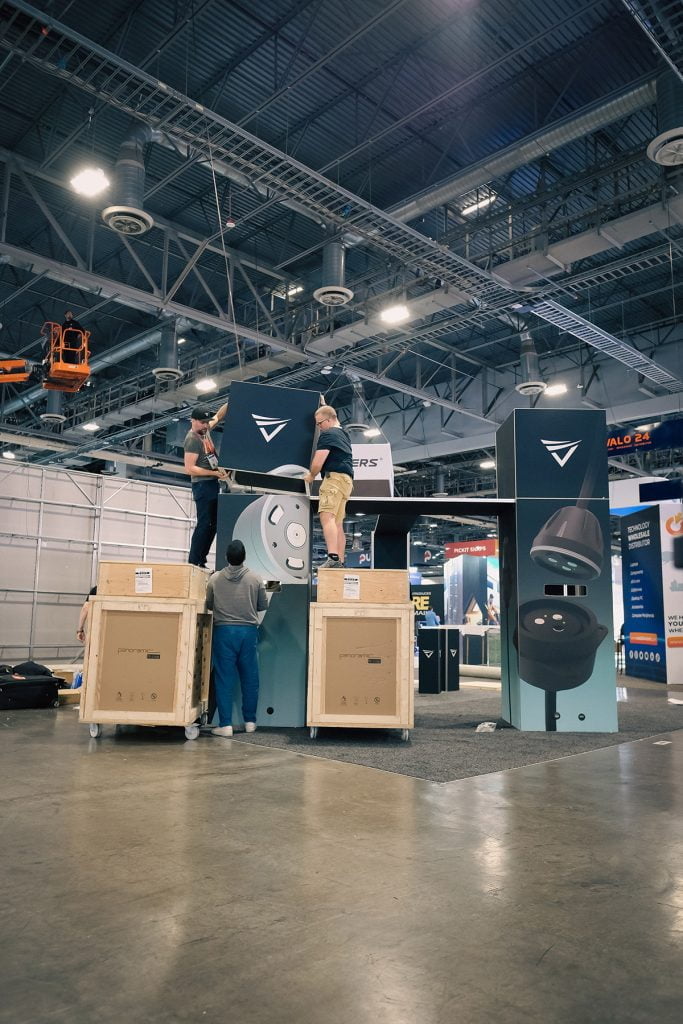 Day 1 – Thursday Jan 5th – It's Showtime
The team was greeted with a steady stream of visitors to the booth and the crowds kept on coming. There was a vast amount of interest spanning various industries and walks of life. Our partners from Menlo Micro joined us for the show, too. Key team members from Menlo dropped by inlcuding, Russ Garcia, CEO and Co-Founder & SVP of Worldwide Marketing, Chris Giovenello.  Menlo's engineer, Pallab Midya, spent the entire show with us discussing the power of the Ideal Switch.
LEDE TV dropped in to interview VoltSafe Ship Skipper & CEO, Trevor Burgess, with CTO, Sanad Aridah, to learn more about VoltSafe technology.  We'll be sure to share that segment on our social channels very soon… and last but not least, Nevada Esports Education League, stopped by to chat with VoltSafe's software engineer, Ashaya Sharma, and gave him a great shout out on Twitter.  Day 1 was over in a blur, but we were impressed with the engagement and interest in VoltSafe – but it was just the beginning…
Day 2 – Friday Jan 6 – The Big Number
The Business Development team kicked off the morning bright and early (it's amazing how great traffic is in Las Vegas in the morning!) meeting potential clients and prospects for licensing and sales partnerships. Meanwhile, the rest of the team had to be on their A-game readying themselves for the doors of The Venetian Expo Halls to open at 9am. CES Day 2 kicked off with a steady stream of visitors for the second day in a row.  Menlo Micro's Marketing & Communications Lead, Mindy Anderson arrived in town to join Voltsafe and Pallab for the balance of the show at CES. They supported the team by answering questions about Menlo's inventive and powerful, Ideal Switch, which combines the strength of the relay with the merit of the transistor. It will power our VoltSafe Home product, and enable its embodiments to become even sleeker than the initial prototypes.  EP&T Magazine (Electronic Products and Technology) covered the partnership between Menlo Micro and VoltSafe in their article here. UPI (United Press International) also featured this critical collaboration in their coverage of CES 2023.
The team witnessed boat loads of interest in VoltSafe Marine (see what we did there?). It's clear that the CES 2023 Innovation Award Winning, VoltSafe Marine, will make a difference and disrupt the current standards within the marine industry. Our friend, Craig Ritchie of IBI Magazine (International Boat Industry), also stopped by to say hi.
For Circuit Whisperer and CTO, Sanad Aridah, the highlight of the day had to be when Joel Telling, the 3D Printing Nerd stopped by for a visit and a high five. Joel is one of Sanad's favourite content creators on Youtube. Sanad in fact, had spent the previous evening watching Joel's videos. Joel loved our tech so much, he tweeted, "We stopped by this booth and I'm honestly blown away. THIS is the type of tech I want to see at CES! Both @repkord and I were very impressed. You'll see them on the show in the future 🙂 "
Joel wasn't the only one who was excited about our technology. Among the positive comments heard at the booth were: "You guys are going to change the world.", "This is so cool.", "Wow, this is such a smart idea.", and "I hope you guys become huge."
It's comments like these that left the team feeling inspired and encouraged about the significant impact that VoltSafe technology will have on lives globally.
Lights out… bring on Day 3.
Day 3 – Saturday Jan 7th – Standing Ovation
As busy as ever, CES started bright and early with doors open at 9am.  It was shaping up to be a big day, as Sanad was a guest on @PLUGHITZLIVE at CES Tech Podcasts Network. You can watch his interview from CES Day 3. Sanad brought along VoltSafe Home to demonstrate and explain how our technology works. After Sanad's sit down with Plughitzlive host, Scott Ertz, it was evident that our technology and design left an incredible impression on him. He could not stop talking about it and chose to name VoltSafe as his Best of CES2023. An honour we're very proud of.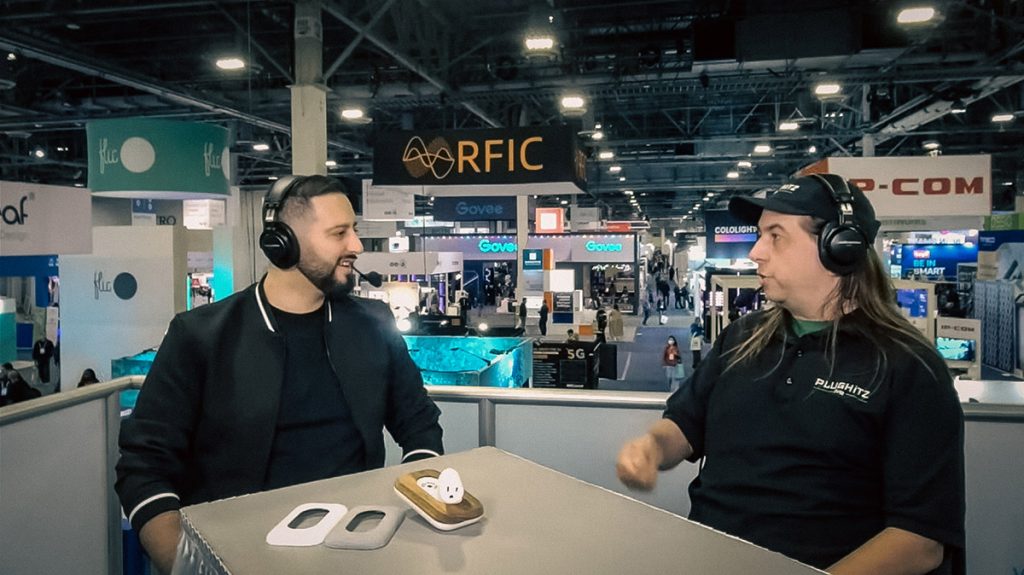 We caught the attention of several media outlets covering tech and influencers such as Peter Salib, a contributor to @GadgetFlow. A lot of passers by, ended up wanting to interview and capture our debut at CES because they felt that they were witness to the beginning of something that is going to take the world by storm and wanted to document the moment. It was these instances that really demonstrate the impact VoltSafe is going to have at a global scale.
Our team had an opportunity to showcase VoltSafe Tech to industry giants Thor Industries (world largest manufacturer of recreational vehicles), Legrand (global specialist in electrical and digital building infrastructures), Hirose Electric Co. (leading global supplier of innovative interconnects), Amphenol (one of the world's largest providers of high-technology interconnect, sensor and antenna solutions) Schneider Electric (global leader in digital automation and energy management) Brunswick (global leader in marine recreation).The day concluded with an extensive chat with Dusty Greene producer of Two Bit daVinci, who looped in CEO, founder and host Ricky Roy. 
VP of Business Development Phil Garber, attended the Canadian Tech Industry networking event to close out the show. One more day to go.
Day 4 – Sunday Jan 8th – Curtain Call
The media interest didn't stop as CEO Trevor Burgess was called by CJWW Radio in Saskatoon on Sunday morning to chat about VoltSafe's early days in Saskatchewan and the tremendous progression to being on a world stage in Las Vegas at CES.  VoltSafe still saw steady traffic throughout the day, right up until the close of the entire show at 4pm. A segment with tech and gadget blogger,  The Geek Church's Mark Rollins closed out the show. The final announcement for CES 2023 came over the airwaves and was met with a round of cheers and applause from all of the exhibitors – a year's worth of preparation and hard work had finally come to a close.
CES 2023 was an eye-opening event for the VoltSafe team, but one thing was very clear – VoltSafe made a positive impression among industry attendees, the media and businesses alike.  In fact, in similar fashion to Scott from PlugHitzLive, Valerie Antkowiak and Mark Pallone from Appmyhome also noted VoltSafe as one of their favourite tech products at CES2023. With over 3,200 exhibitors representing over 174 countries around the world in over 40 technology categories, only ONE exhibitor at CES does what VoltSafe does and we can't wait to bring it to the world through new partnerships, licensing and sales in the weeks, months and years to come.
And as if our inaugural week at CES didn't produce enough excitement for our inventive startup, the Consumer Technology Association, which produces CES each year, has recognized VoltSafe Home as a Mark Of Excellence Awards Finalist in the Emerging Home Technologies category.  A nice way to put a bow on a great event. Viva Las VoltSafe.