VoltSafe Blog Team – February 9, 2023
From "talking bricks" to profoundly smart tech, the mobile phone scene has rapidly evolved to make your modern day device a portable computer and communication hub.
There are so many instances in our everyday lives where we do or use something just because "that's just the way we've always done it", however, at VoltSafe, we believe there's always a smarter way. In this edition of our "If it works, why change?" blog series, we take a look at the evolution of mobile phones…
Samsung, Nokia and Motorola. Three innovative electronic brands that competed over decades to turn the simple cell phone into a powerful communication device. They even teamed up with Google to compete with Apple to bring the latest smart functionality into the lives of the masses. They didn't redesign their phones simply for aesthetic reasons or to be trendy. Instead, like VoltSafe, they continue to look for more inspired ways to connect in a simple and smart manner.
I just called to say I love you
It began with Martin Cooper, an engineer at Motorola. He invented the first prototype of the mobile phone in 1973. A decade later in 1983,  the DynaTAC 8000X was introduced to the world. Nicknamed "the brick" for its chunky appearance, it only allowed about 30 minutes of talk time, before the battery needed to be recharged for about 10 hours. Back then, it cost about $4000 US. 
In 1987, Nokia trimmed down Mobira Cityman 900, a  "slightly" lighter phone weighed in at 800g.  A year later, Samsung, the brand best known for various household electronics from TV sets to household appliances that reduced the size of their phone, the SH100H to the extent that it could be considered the first "handphone".
But mass adoption of the cell phone didn't happen until Nokia introduced GSM 2G technology with the Nokia 1011 in 1992. These phones were smaller and the antennas thinner. Prior to 1999, mobile phone usage was limited when it came to calling area,  until Motorola's Timeport handset employed tri-band GSM technology. Tri-band allowed users to use their handset anywhere in the world.
World Wide Web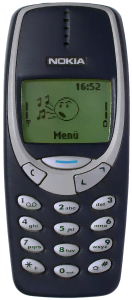 The same year Nokia released a device with a groundbreaking feature, the ability to connect to the web. The Nokia 7110 was the first cell phone to feature a WAP (wireless application protocol) browser that allowed the user to browse the internet.
By the early 2000's, phones had become smaller and lighter. Most of us probably owned a Nokia 3310,  known as being the best selling phone of all time.
Bluetooth Rising
What may surprise you is that it was Ericsson's T39 device that first introduced Bluetooth technology to the mobile phone world.  All other companies followed suit so that users could connect devices and use apps that would allow them to control other devices in their homes that were within short range.
Smarter Than Smart Technology
Not to be outdone, Nokia's entry to the smartphone world included a 1-megapixel camera. They followed with a global roaming model, the Nokia 6630. 
Samsung, Nokia and Motorola dominated the mobile phone world up to this point. However, it was a computer tech company that saw the advantages of turning the mobile phone into a handheld computing device. In 2007, Apple introduced the first iPhone, the iPhone 2G, with a touchscreen interface. A year later, Google jumped on board and launched the first Android phone, the HTC Dream.
Samsung, Nokia and Motorola partnered with Google to take advantage of Google Suite and Google apps. Motorola was the first to include a free Google Maps Navigator installed on their Motorola Droid model.  Soon after that smartphones allowed the user to do more than just email or shoot and edit photos and videos. Users could utilize productivity apps that would allow them to edit spreadsheets and create text documents and print them as well as shoot full feature length movies (Tangerine was shot on an iPhone 6), right in the palm of their hand. No need to run back to the office or have an office for that matter.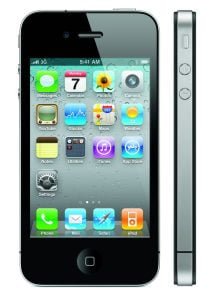 Apple's iPhone 4 allowed us all to connect with family and friends around the world through video calls with their FaceTime app. Now, grandmas and grandpas around the world feel there is no excuse when it comes to scheduling a visit with the grandkids, when all you have to do is hit that video icon on your phone. In 2010, Apple's iPhone 4S was really the game changer for many. It allowed everyone to carry around their own personal assistant named Siri right in their pockets . It became a big hit especially amongst those with accessibility concerns. Samsung followed a year later with their own voice assistant on the Galaxy S3 which included eye-tracking. In 2014, Samsung launched the Galaxy S5, the first smartphone to feature a heart rate monitor. Now health tracking has become the norm. By 2019 mobile device companies, including Samsung, were developing phones that would run on 5G technology. 
A Necessary Tool
Today, Samsung, Google and Apple dominate the industry and are continuing to innovate and add features that will allow us to be in full control of our lives all with a tap on an app. We can now monitor our health, our homes and energy usage with the latest technology.
VoltSafe shares this same passion and drive to innovate in order to bring a safer, simpler and smarter way to connect and control electrical power. To learn more about our tech and our vision, follow us on your fave social platform or take a peek through voltsafe.com.