VoltSafe Blog Team – February 10, 2023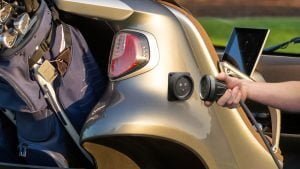 The PGA Show that takes place annually in Orlando in late January sounds like an odd place to run into VoltSafe, but it's not as random as you might think. Our business development team headed south to sunny Florida January 27th and 28th to showcase VoltSafe's patented tech to a captive crowd. A fellow Vancouver-based that happens to be a leading supplier to golf cart manufacturers encouraged us to join them at golf's biggest B2B trade show. They believe, and we agree, that our tech can solve a common and annoying problem for golf cart operators. The charging cords on golf carts suffer from breakaway damages (broken prongs, ripped cords) due to inattentive drivers, aka golfers having too much fun and forgetting to unplug before starting their round. The PGA Show is an industry-only event that brings together Golf Professionals and leaders to network and test the newest products, programs and ideas to inspire innovation, create solutions, and build business and passion for the game. Enter, VoltSafe.

Upon our arrival, the VoltSafe team immediately caught the attention of the attendees and exhibitors at the show with our novel electrical solution for charging and electrifying golf carts, including cart fleets. Our initial interest in attending the show was to connect with the big three golf cart manufacturers such as Club Car, E-Z-GO and Yamaha. We believed the golf cart industry had a need for our tech and is an industry large enough to require substantial volumes of our soon-to-market 15A extension cord. After connecting with these companies, it was evident that the industry can greatly benefit from our electrical connectors and applications, and the need was greater than we expected. So which challenges does VoltSafe technology address, you ask? 
VoltSafe = Simple  
The easy magnetic breakaway of our cords caught the eye of attendees. When electric golf carts aren't being driven around the course, they sit in the cart barn to be charged. Since the wall outlet provides AC power and the vehicle needs DC power, this requires an AC-DC transformer, called a charger, to be placed somewhere along the way. Sometimes the charger is onboard the cart, sometimes it's actually wired into the charging cord and stays at the cart barn ("off-board charger"). Regardless of where the charger is placed, sometimes drivers can be inattentive, for instance because they're too eager to get out on the green or tired staff at the of a long day. We're human, mistakes happen, and cords get damaged. Sometimes it's an easy (but annoying) fix, but other times, it requires the charger itself to be replaced, driving up costs for golf course operators. This can be quite an expensive accident! Some golf pros we spoke to suggested that this may happen to every cart once every 2-3 years. This adds up, so you can see how the idea of eliminating that money pit and headache using VoltSafe tech is appealing! Using a 15-Amp VoltSafe-enabled extension cord, carts could have a simple magnetic breakaway at the vehicle, preventing ripped cords. Further, this would allow manufacturers to place the charger onboard the cart and let operators keep a nice and tidy cart barn. 
VoltSafe = Safe
The other major concern at golf courses is corrosion. This is a much larger concern than we had anticipated. Why? The fertilizer used to keep the course lush and green is quite corrosive and is sprayed up by the tires whenever the cart is driven around the course. The fertilizer eventually gets into the inlet, accelerates corrosion, which in turn may cause the plug to heat up and melt. Let's not forget about arcing caused by the corroded prongs. VoltSafe tech prevents hidden corrosion by design. No pin-and-sleeve, means no fertilizer, debris, or water can ingress and cause damage. Instead, the contacts are exposed. VoltSafe connectors won't turn on if they sense too much corrosion or debris. Using a soft cloth to clean the contacts will remove debris or buff off any corrosion build-up from the surface of the contacts. Further, VoltSafe tech detects overheating and shuts off before any damage is done.
VoltSafe = Smart

VoltSafe's value proposition including the problems our technology solves for, when presented to cart manufacturers, resulted in an enthusiastic response of interest in exploring the integration of our technology further. It was evident that VoltSafe tech can solve a pain point and aid the needs of the golf cart and golfing industry overall.  The adaptability and versatility of VoltSafe technology allows us to achieve scale and a favourable cost position quickly.  
To learn more about VoltSafe solutions that span various industries, and applications, follow us on social media or explore voltsafe.com.